HOME
Style & Comfort In The Heat
Can you feel it? The buzz of summer is just around the corner. Invitations to your favorite events are flooding in. Whether you're hitting the beach, attending a rooftop launch party, or going to a downtown fundraiser, having the right men's summer shoes is a must to start the sunny season on the right foot. 
This curated selection of popular men's shoes has a bit of everything so you can be ready to make an entrance in style. Select classic designs that have withstood the test of time or go for the latest fashion trends to really make a splash.
Whatever you do, don't pass up on this opportunity to fill your closet with the best summer shoes for men. Avoid scrambling at the last minute and instead be ready for the adventures before the invitations come.
The 21 best men's summer shoes
Amberjack The Loafer: Overall best men's summer shoes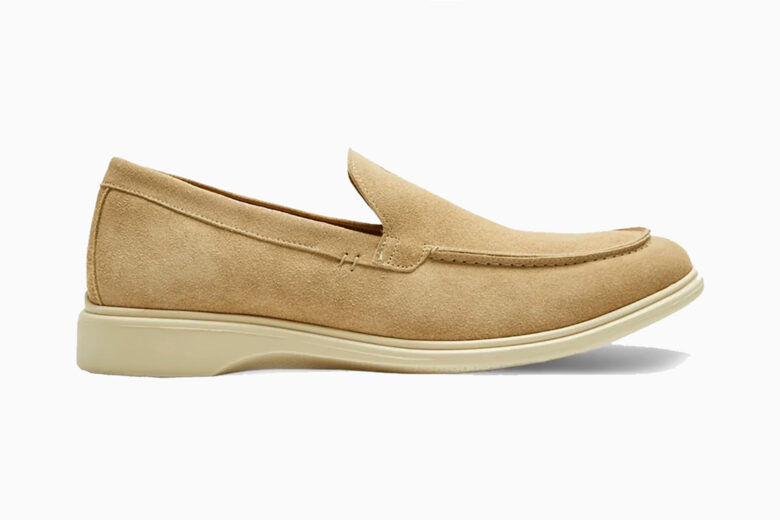 Loafers are a timeless men's summer shoe design. In other words, a safe bet. Yet sometimes you want to take some risks. Spice things up and stick out from the crowd. 
The Amberjack Loafer is the perfect way to incorporate the classic design everyone loves with a new twist to show you stay on top of the game. The hand-sewn stitching and simplistic design keep you looking good, while the comfortable suede leaves your feet feeling great.
Check our hands-on Amberjack Loafers review to see how they fit on the feet. You can also read our other Amberjack shoes review and learn about the Amberjack brand here.
| | |
| --- | --- |
| Materials: | Full-grain leather or Italian suede |
| Colors: | Black, beige, brown, blue, and more |
Allbirds Tree Runners: Best lightweight summer shoes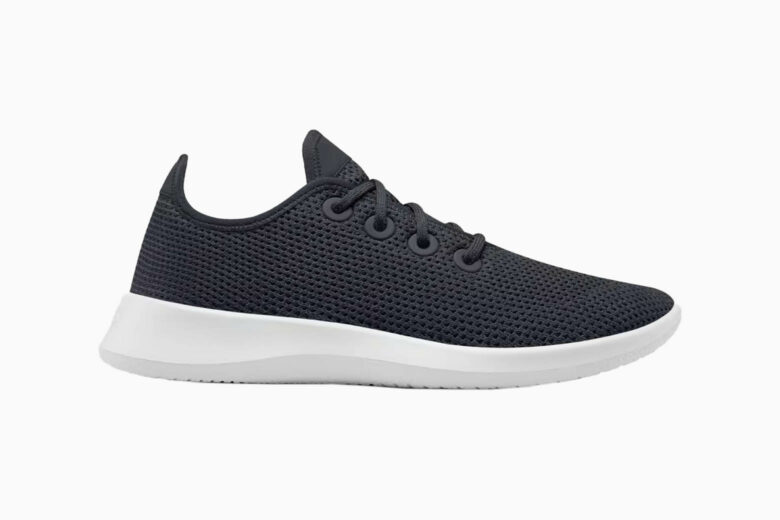 Summer sneakers need to keep up with the fun in the sun, without weighing you down. Thanks to the Allbirds lightweight knit, these popular men's summer shoes are a great choice for those action-packed days. 
Made from responsibly-sourced eucalyptus tree fibers, the Allbirds Tree Runners are breathable and designed for warm weather. They're also packed with eco-conscious features, resulting in a carbon-neutral product. Check out our full Allbirds review for more details, or read our story behind Allbirds shoes to learn more about the brand.
| | |
| --- | --- |
| Materials: | Eucalyptus tree fiber knit |
| Colors: | Jet Black, Marine Blue, Kaikoura White + More |
Sperry Authentic Original: Best boat shoes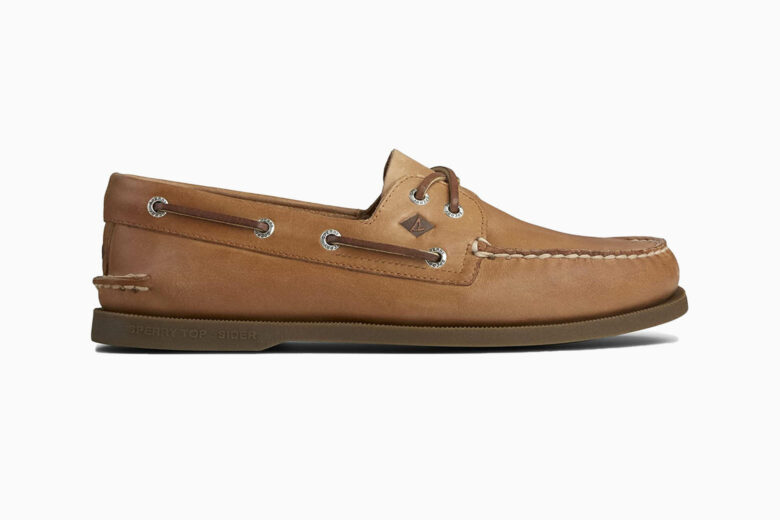 You don't have to be at the yacht club to sport the classic style of Sperry boat shoes. They are one of those designs that hit the nail on the head. So well designed, they're seen everywhere in history and sure to witness the future as well. 
The Sperry Authentic Original Leather Boat Shoes are carefully hand-sewn to withstand years of wear and tear.
| | |
| --- | --- |
| Materials: | Leather |
| Colors: | Tan, Navy, Black + More |
Birkenstock Arizona Essentials: Best men's beach shoes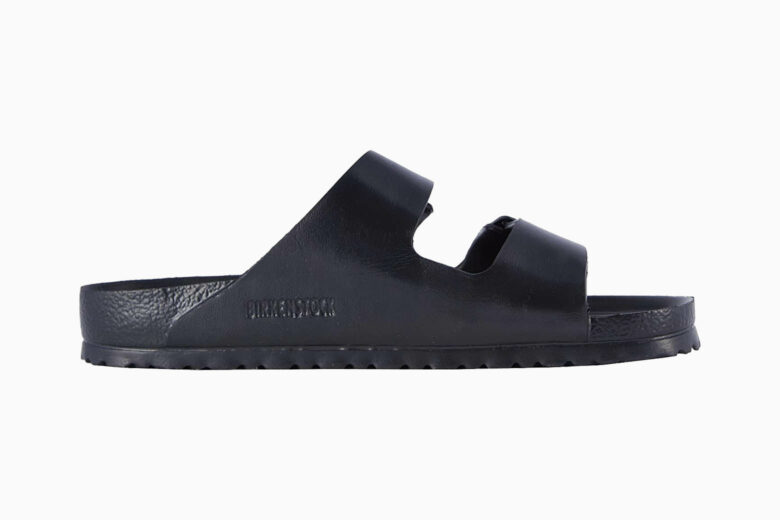 Getting ready for a day on the beach means gearing up for fun. Don't let your footwear stay in the past. Instead, check out these two-strap Birkenstocks made from EVA. They're waterproof, ultra-lightweight, and highly flexible. The perfect choice for men's beach shoes. 
The Birkenstock Arizona Essentials bring a modern touch to the cork Birkenstock style we all know and love. 
| | |
| --- | --- |
| Materials: | EVA |
| Colors: | Black, Khaki, and White |
Oliver Cabell Low 1: Best summer sneakers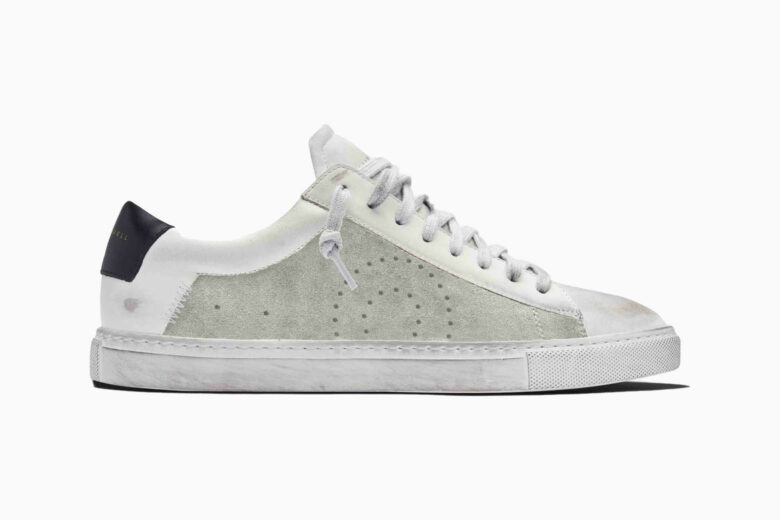 Men's casual shoes can be drab and downright ugly. Not these. Packed with a distressed style and an iconic look, these summer shoes are made from buttery Italian calfskin leather and are hand-stitched to perfection.
The Oliver Cabell Low 1 comes from a luxury brand that avoids unnecessary markups. Instead, you get our top choice for the best men's luxury sneakers at a great price. One that will stick around for years as your favorite pair of men's summer shoes.
Check our in-depth review of Oliver Cabell's sneakers and our profile on Oliver Cabell's brand.
| | |
| --- | --- |
| Materials: | Italian leather |
| Colors: | White, Black/Silver, Leopard Print + More |
Tod's Gommino: Best luxury summer shoes for men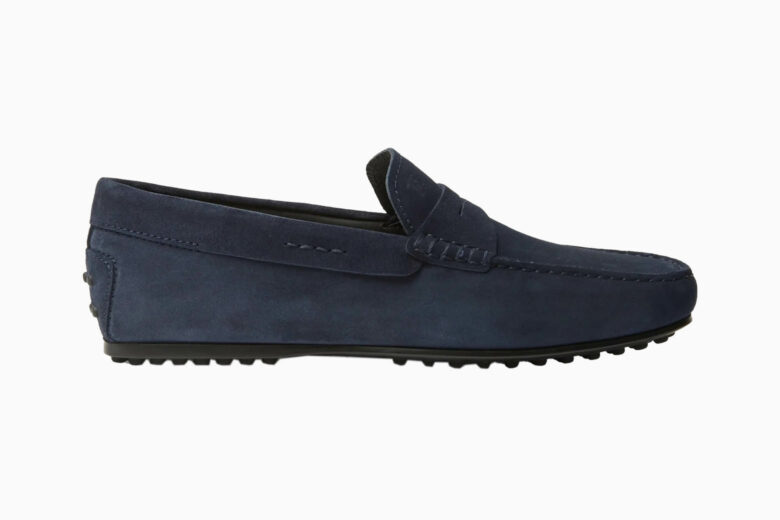 You're going to quickly fall in love with these men's slip-on shoes. As the cornerstone model of this Italian company, they manage to provide superb support and incredible comfort.
Tod's Gommino Suede Driving Shoes feature the brand's signature pebble rubber base for additional grip. You'll see why this design has lasted over 35 years when you get your pair of new summer shoes.
| | |
| --- | --- |
| Materials: | Suede and leather |
| Colors: | Navy and Gray |
Adidas Adilette: Best men's slip-on summer shoes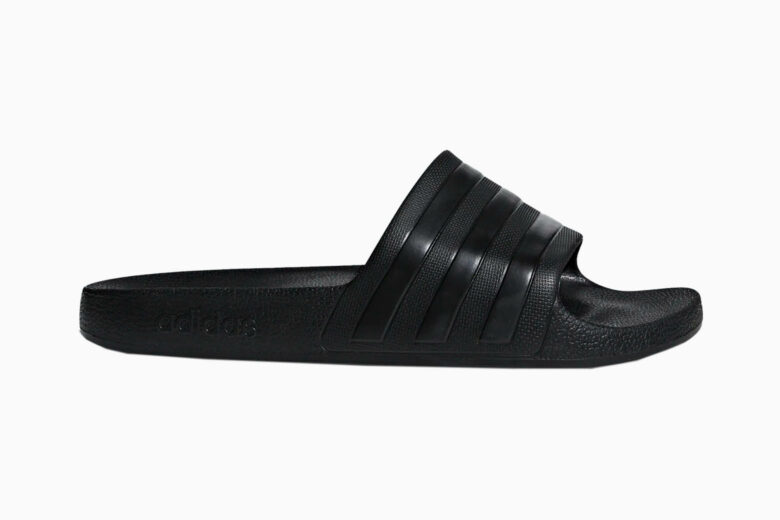 A good pair of slides is an important part of any summer shoe collection. They need to be easy to wear, durable, and comfortable. These slip-on shoes by Adidas hit every mark. 
The Adidas Adilette is the ultimate solution for this type of summer shoe. Their one-piece design means the strap will stay connected, while the plush materials are lightweight and quick-drying. 
| | |
| --- | --- |
| Materials: | EVA |
| Colors: | Cloud White, Core Black, Solar Blue + More |
M.Gemi Pastoso Uomo: Best suede men's summer shoes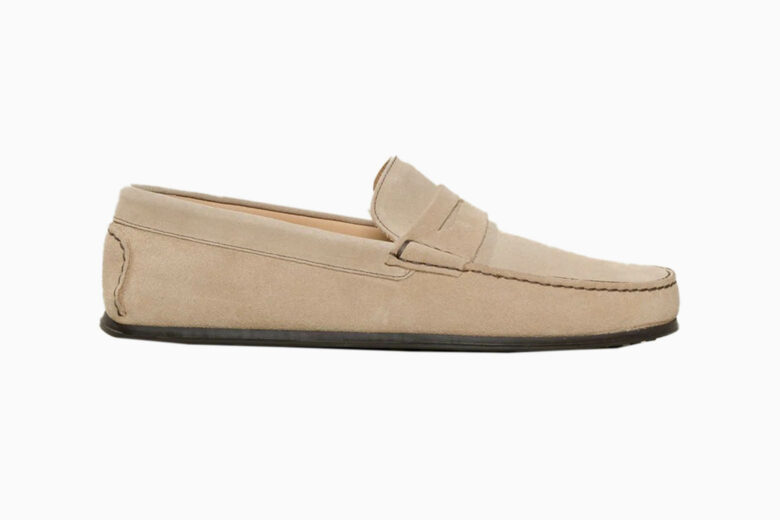 Slip into a world of luxurious comfort with these handmade men's summer shoes. The suede and leather construction feels like a cloud wrapped around your feet, while the classic penny-keeper design brings a touch of elegance to the popular men's shoe style. 
These summer shoes are hand-crafted in Tuscany, Italy with great care and attention to every detail. Not only are the M.Gemi Pastoso Uomo certain to be a timeless addition to your wardrobe, but they'll also put a smile on your face each time you put them on.
Learn more about the story behind M.GEMI.
| | |
| --- | --- |
| Materials: | Suede and leather |
| Colors: | Cappuccino, Navy, Black, and Gray |
On Running Cloudridge: Best trail summer shoes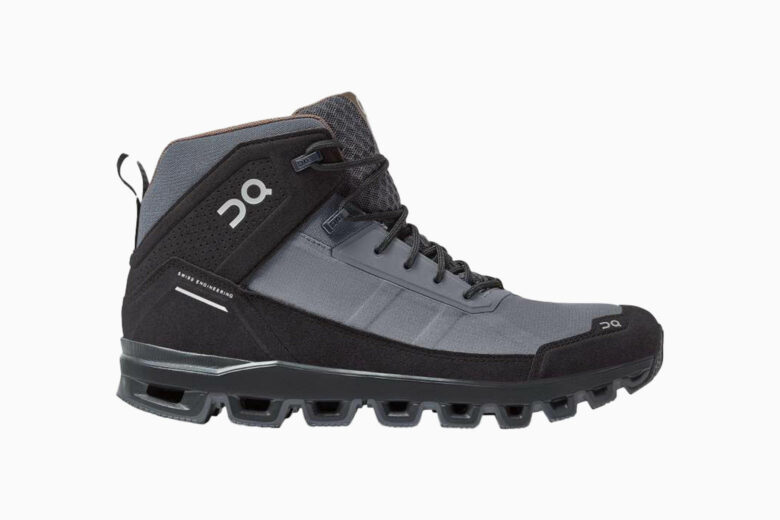 The world of hiking shoes is filled with heavy, bulky options that weigh you down. Thankfully, On Running comes to the rescue with these light and breathable hiking boots.
Featuring a Swiss-engineered outsole ready to conquer any terrain, the On Running Cloudride takes inspiration from professional-level trail racing shoes by incorporating a sock-like fit.
| | |
| --- | --- |
| Materials: | Polyester and vegan suede |
| Colors: | Sand, Black, and Navy |
Axel Arigato Clean 90: Best men's casual shoes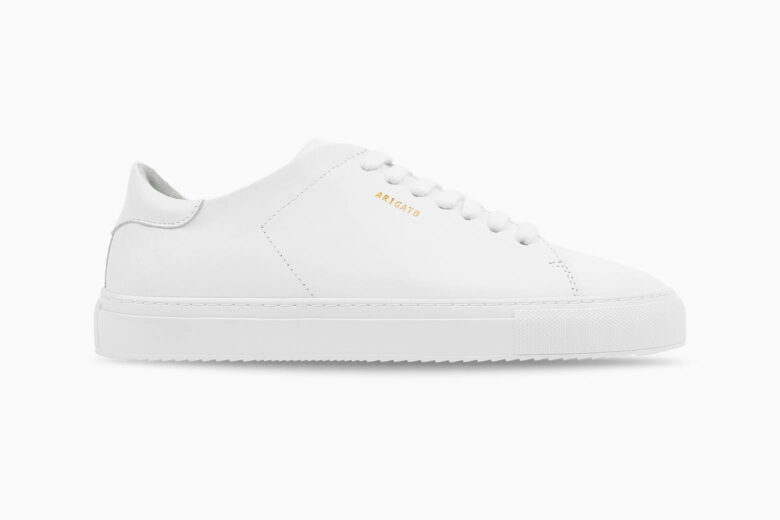 These Axel Arigato summer sneakers feature an ultimate form of simplicity and serenity while remaining stylish and fashion-forward.
We can't get enough of the Axel Arigato Clean 90. Their clean look turn these casual shoes for men into distraction-free showstoppers. The subtle logo stamped in gold adds a fine detail that's certain to catch your eye. 
| | |
| --- | --- |
| Materials: | Leather and rubber |
| Colors: | White |
Loro Piana Summer Walk: Best linen summer shoes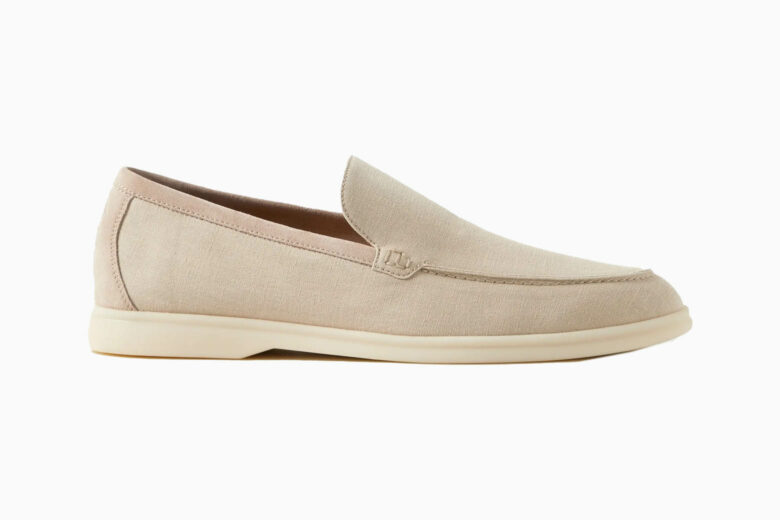 You can forget about summer heat causing sweaty feet with these men's slip-on shoes. The lightweight and breathable linen will keep you cool and comfortable, even as the temperatures rise to blistering points.
The flexible rubber soles are paired with suede trim for a look that's timeless and sophisticated. The Loro Piana Summer Walk Loafers  are perfect for city outings, boat adventures, and everything between. 
| | |
| --- | --- |
| Materials: | Linen and suede |
| Colors: | Beige |
Converse Chuck Taylor: Best value men's summer shoes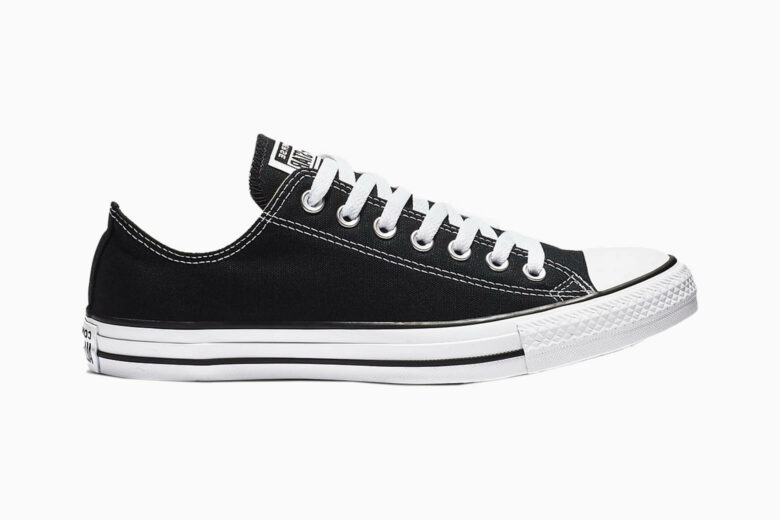 Unofficially known as the "sole" of rock and roll, Chuck Taylors have graced the world stage time and time again. Are you ready to tackle your artistic expression? 
Converse Chuck Taylor Low Tops are an ever-lasting men's summer shoe that brings energy and comfort anywhere you go. The classic design lasts through any fashion trend and is sure to be an excellent, affordable addition to your summer shoe collection.
| | |
| --- | --- |
| Materials: | Canvas |
| Colors: | Black, Navy, and White |
Quoddy Downeast: Best nubuck summer shoes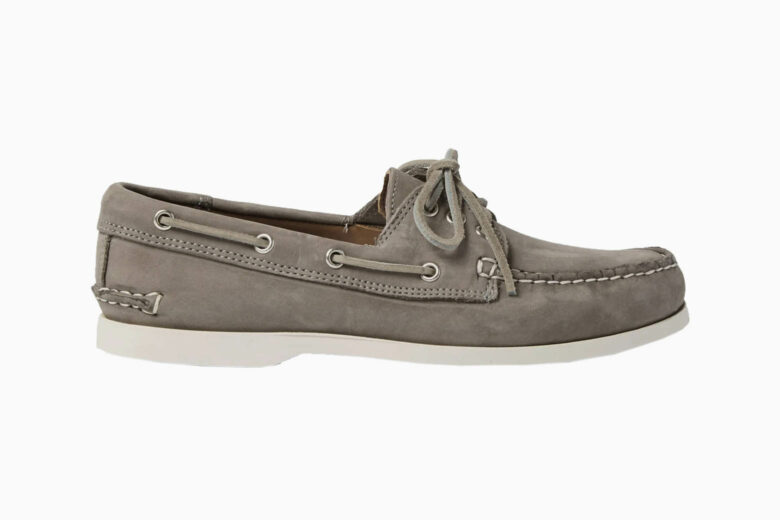 A quality life preserver might be the most important thing to have onboard your boat. Some might say a close second is a solid pair of boat shoes. Okay, maybe there are a few other essentials, but you can't overlook the importance of your footwear.
The Quoddy Downeast Boat Shoes utilize nubuck for a smooth appeal and gripped rubber soles for solid traction. They're men's slip-on shoes that are casual yet still have a pinch of sophistication.
| | |
| --- | --- |
| Materials: | Nubuck |
| Colors: | Gray |
Vans Classic: Best canvas summer shoes for men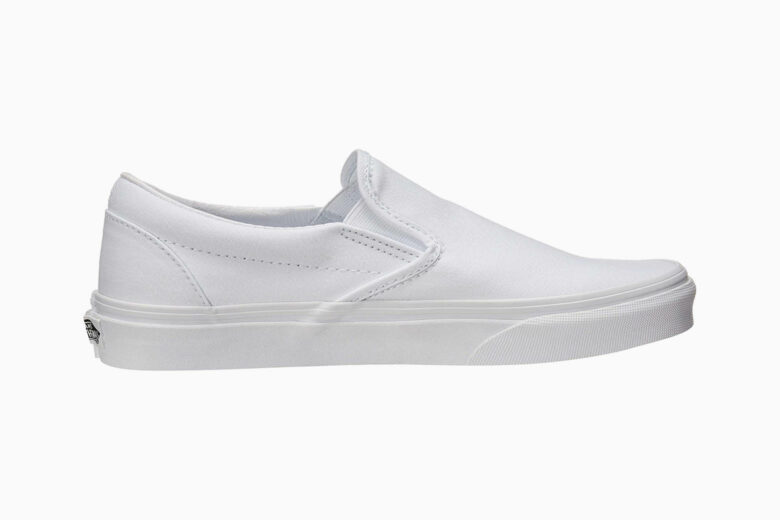 Finding the right summer shoes to properly express yourself isn't easy feet. Some shoes offer about as much taste as Wonder Bread does. Thankfully these popular men's shoes exist, throwing spice back into your life.
The Vans Classic Slip-on Low Tops come in a variety of prints, colors, and patterns. They're a relaxed and comfortable option for men's casual shoes that allow you to express yourself. 
| | |
| --- | --- |
| Materials: | Canvas |
| Colors: | Black, White, Checkered + More |
Clarks Desert Boots: Best summer boots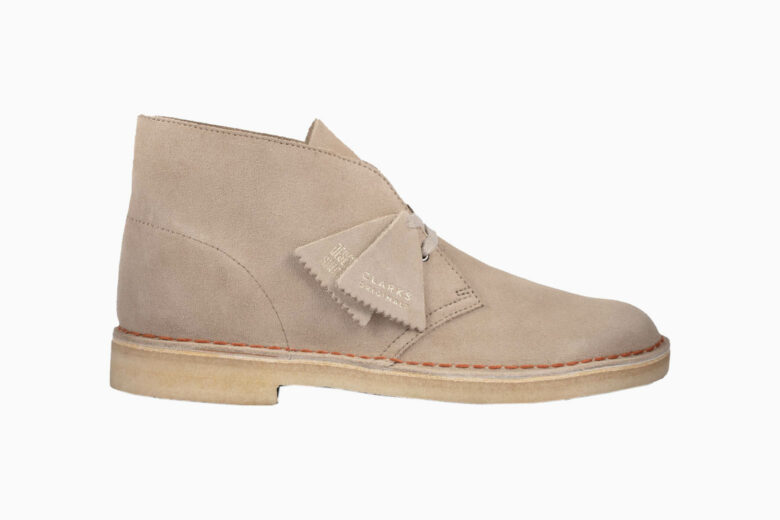 Revolutions don't always have to be political. When Clarks boots were designed back in 1950, they brought a touch of Cairo to the global shoe scene. Now they're on nearly every continent and cover the feet of cubicle jockeys and hipsters alike.
Clarks Desert Boots use suede and leather construction paired with utterly soft crepe soles to create a popular men's shoe. The unique look of one of the best boots for men adds a style you simply can't find in other shoes. Are you ready for the desert boot revolution to hit your feet?
| | |
| --- | --- |
| Materials: | Leather or suede |
| Colors: | Black, Brown, and Sand |
Toms Alpargata: Best budget men's slip on shoes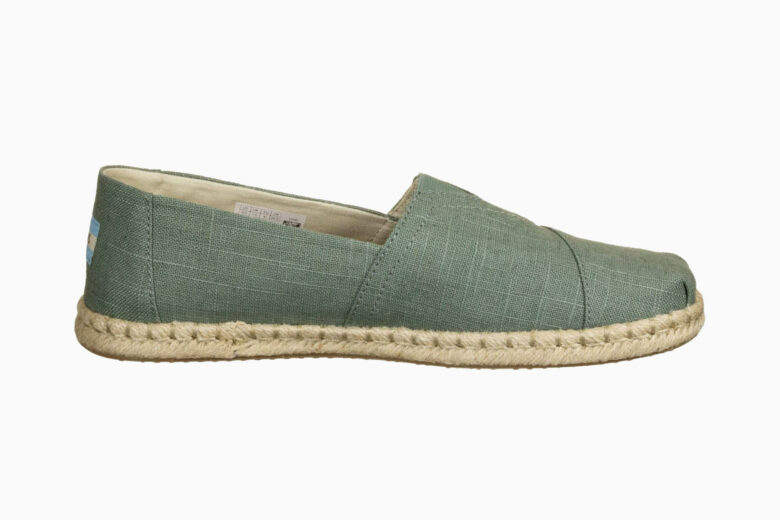 By giving one-third of profits to grassroots organizations driving progress at a local level, Toms has proved their dedication to the greater good.
Offered in a variety of textiles and colors, the laid-back design and feel are a nice addition to your summer shoe collection. If you're looking for a pair of men's casual shoes that show your forward-thinking ways, the Toms Alpargata slip-ons are the ones for you.
| | |
| --- | --- |
| Materials: | Variety of textiles |
| Colors: | Black, Bonsai Green, Dark Slate + More |
G.H. Bass Weejun: Best summer penny loafers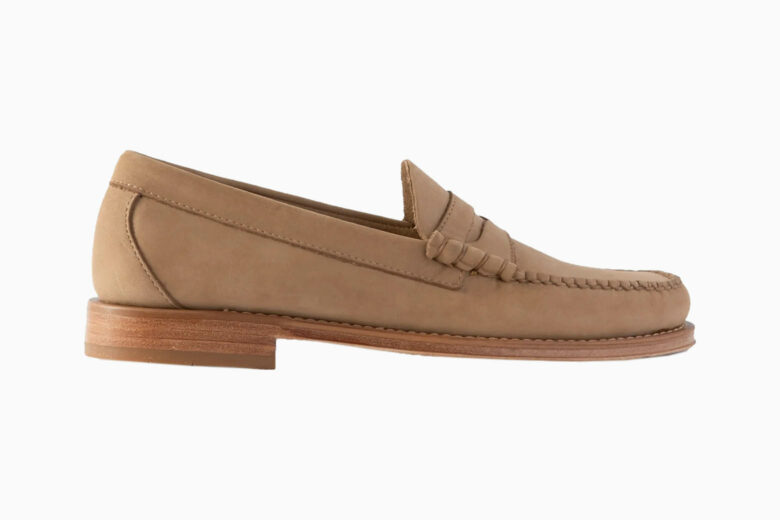 G.H. Bass brings almost 150 years of experience forward and it shows. The signature "beef rolls" add a nice touch of individual style to the classic penny loafer look. 
Perforated insoles keep you cool while the polished leather soles provide added durability and elegance. The G.H. Bass & Co. Weejun Penny Loafers are another top choice for men's summer shoes.
| | |
| --- | --- |
| Materials: | Nubuck |
| Colors: | Sand |
Hugo Boss Espadrilles: Best dress summer shoes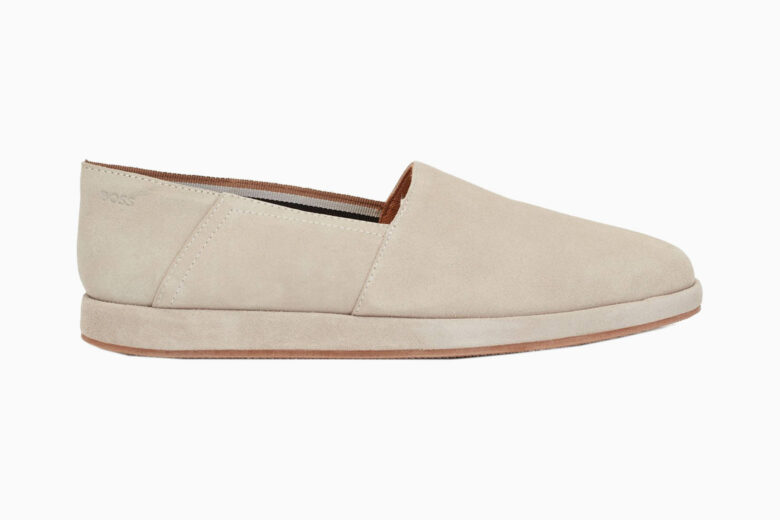 Feeling great is what life is all about. And it's the secret key to looking good. These men's slip-on shoes give you the comfort you need combined with the style you want. 
The Hugo Boss Espadrilles feature a modern touch to this classic shoe style. Those looking for a classy addition to their summer shoe collection can't go wrong with this pair made by one of our favorite brands for men's dress shoes.
| | |
| --- | --- |
| Materials: | Suede |
| Colors: | White and Beige |
Koio Maranello: Best leather summer shoes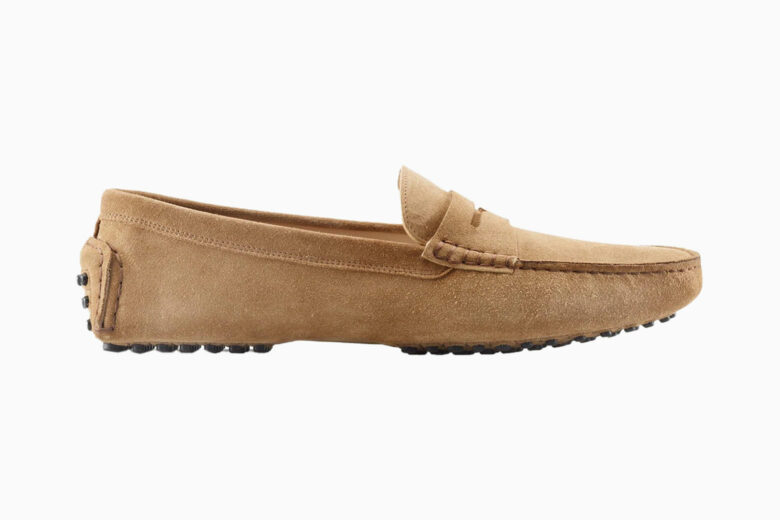 The love that goes into each pair of Koio shoes is evident from any angle. And that's especially true in these polished loafers which make an ideal choice for summer shoes for men. The gommini-embedded soles grab your attention with each hand-placed rubber dot. 
There's no doubt you'll love the brilliant design of the Koio Maranello penny loafers. Check out our full Koio review for more details on this great brand of cool shoes for men.
| | |
| --- | --- |
| Materials: | Suede |
| Colors: | Cumin, Pewter, Espresso, and Nero |
Gucci Horsebit Loafer: Most stylish summer shoes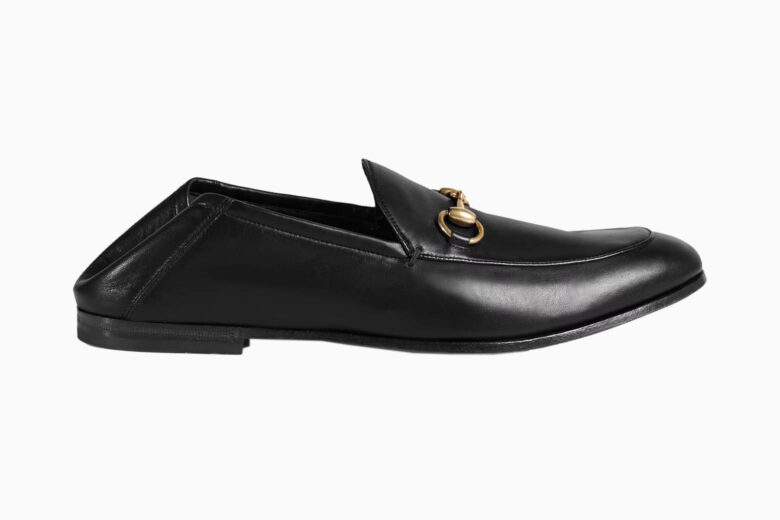 Adorning the feet of celebrities and VIPs around the world, the impeccable style of Gucci loafers is difficult, if not impossible to match. The iconic Gucci horsebit is the main focal point, yet the intentionally folded heel draws you into comfort. 
The Gucci Horsebit Loafer is a men's summer shoe that puts you on top of the world, ready to conquer anything the season has to throw your way. 
| | |
| --- | --- |
| Materials: | Leather |
| Colors: | Black |
Teva Universal: Best adventure summer sandals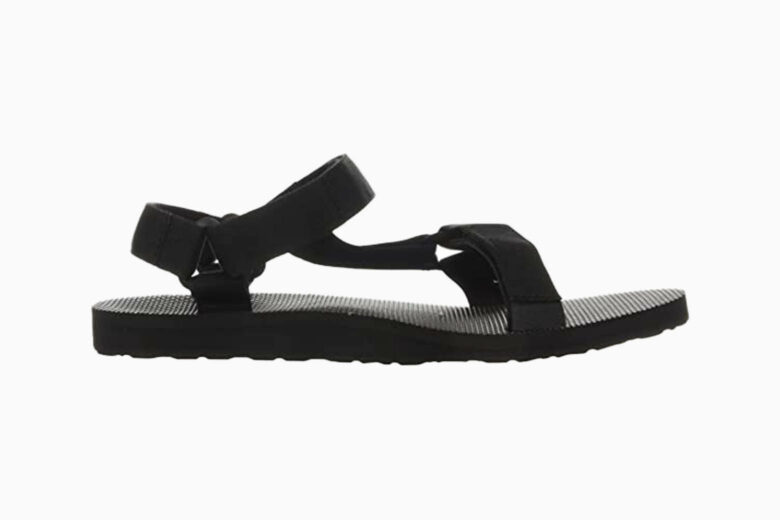 When single-strap sandals aren't good enough for your adventures, the Teva sport sandal comes to the rescue. Created in 1984 by a Grand Canyon river guide, these men's summer shoes give you the ultimate breathability yet won't go floating down the river without you. 
The Teva Universal Sandals are the right pick for anyone who wants to have versatile sandals that can handle action-packed days. Multiple hook-and-loop adjustment points provide a customizable fit.
| | |
| --- | --- |
| Materials: | Polyester and EVA |
| Colors: | Black |
Frequently asked questions about men's summer shoes
Which shoes are best for summer?
Your summer shoes need to be versatile, comfortable, and stylish. Our favorite pick is the amazing Amberjack Suede Loafer. They feature an incredibly modern look that is fit for almost any summer occasion. Check our list of the best men's summer shoes for more inspiration.
What men's shoes are in style?
Choose classic loafers for a stylish touch for any occasion, go with sandals for a beach or boat adventure, and don't forget a pair of sneakers or boots for those long days on your feet. For more inspiration, check our list of summer shoes stylish men need.
What are summer shoes called?
There are a wide variety of summer shoes and shoe styles which can be called by many names. Some prefer low-top sneakers, such as the classic Converse Chuck Taylors, while others turn to the ultimate luxury found in Gucci Horsebit Loafer when selecting their favorite pair of summer shoes. Check our list of the best summer shoes for men for more inspiration.
Source link